How to Buy a House in 2021: Home Buying Basics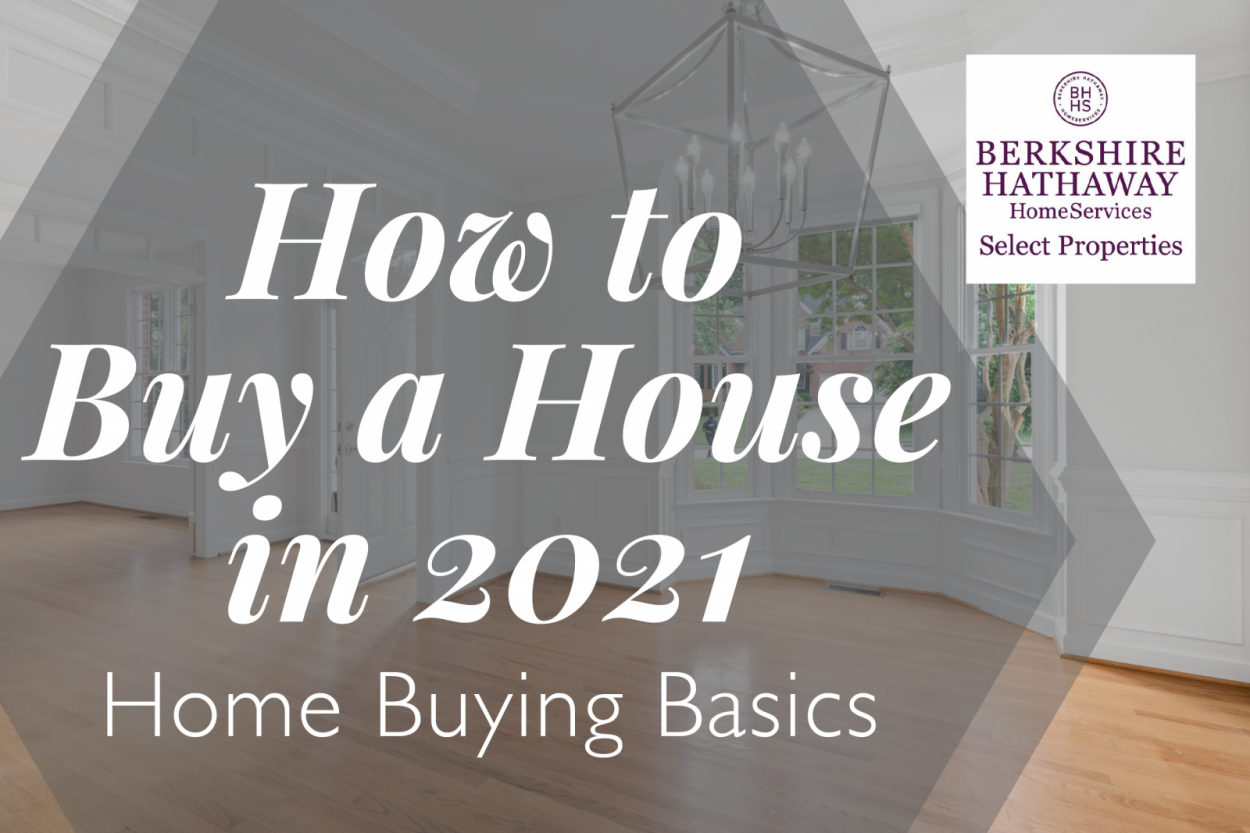 Like any industry, the world of real estate comes with its own rules and lingo. Since buying a house isn't something most people do all the time, the process can seem confusing and mysterious. For first-time homebuyers, the fear of the unknown can create a lot of anxiety. But even someone who has bought numerous houses in the past might be concerned that things have changed since their last purchase—or because of the pandemic.
To help both new and seasoned house hunters, we've compiled a list of home buying basics for how to buy a house in 2021.
Buyer's Basics: How to Buy A House
There are 8 steps to buying a home, and they typically follow this order:
Saving

Figuring out what you can afford

Get pre-approved for a mortgage

Find a real estate agent

Start house shopping

Make an offer

Home Inspections and Appraisals

Closing
Here's what you need to know at every step:
1. Start Saving
Once, 20% of the asking price was considered the ideal amount for a down payment. There is no clear-cut "best" amount, but today, many experts mention 10% as a reasonable goal. One thing is certain: the bigger the down payment, the better, so it is never too soon to start saving. And don't forget other buyer responsibilities such as inspections and some closing costs. 
In addition to saving, do what is necessary to establish or repair credit. A good credit score is instrumental to getting approved for a mortgage at a favorable rate.
What's different in 2021: This advice still holds up in 2021. It will always be a good idea to save up for a big down payment. Interest rates are at record lows, though, and should be throughout the year. Maintaining good credit is the best way to take advantage of the trend.
2. Figure Out How Much You Can Afford
Owning is not like renting and can cost a buyer significantly more than they think it will. Give careful consideration to all monthly expenses for a house. And even if a house is nearly "perfect" there will certainly be some things needing updating or remodeling to the new owner's tastes. 
After determining an optimal price range, be practical. Resist falling for a house that is at the top of the budget or beyond. There may not be money left over for changes or emergencies. And facing financial struggles to pay the bills could easily replace the joys of homeownership.
What's different in 2021: We're in the middle of a seller's market. Real estate inventory is low and prices are high, making bidding wars common. Buyers need to be hyper-aware of their budget to determine when to engage with the competition and when to walk away. 
3. Get Pre-Approved For a Mortgage
With an affordable price range in mind, visit a lender for a more thorough assessment. Based on some financial information, the lender can give the borrower a ball-park estimate of the loan they should be able to get. This is known as prequalifying for a mortgage. 
For a more official number, buyers should get preapproved for a mortgage loan. This involves a more extensive examination of financial records and a credit check. The result is an actual loan amount approved for the monthly payment and interest rate. 
A preapproval letter from a lender is an important part of the house hunting process. It assures sellers of the amount the buyer can afford. Simply going through the trouble to get pre approved shows the buyer's commitment to making the deal.
What's different in 2021: In such a competitive market, pre approval is super important. Buyers who have this paperwork in order have the advantage over those who need to scramble to find a lender when they find a house they like.
4. Find a Real Estate Agent
Finding the best real estate agent can go a long way toward making the process of buying a home a smooth one. First-time buyers, especially, need to find someone patient. Their agent will be the one to translate the lingo, explain the process, and not just listen, but understand their needs and wants. Learn what to look for in a real estate agent, and invest the time to find the one that will do the best job for you.  
What's different in 2021: Because the real estate market is expected to remain hot for the foreseeable future, agents are busier than ever. The best agents are true go-getters who thrive in this environment. There is data that shows what to look for. Berkshire Hathaway HomeServices Select Properties, for example, routinely end up at the top of "Best Of" lists in the St. Louis market.
5. Start House Shopping
Having a real estate agent and preapproval moves buyers from merely browsing to actually shopping for a house. An experienced agent will be able to track down properties that check all the right boxes for a buyer and arrange for showings. If a buyer sees a house they like either online or in person, it is perfectly acceptable to let their agent know. In fact, it is better to let them handle contacting the seller's agent rather than the buyer doing it themselves.
What's different in 2021: Video tours and lots of high-quality photos have made online real estate shopping easy in recent years. The pandemic has made this method essential. As vaccines become available and restrictions loosen up, this trend is still probably here to stay thanks to its convenience and ability to narrow down a buyer's choices without running all over town to multiple open houses and showings.
6. Make an Offer
When a buyer has decided on a house they like, it is time to make an offer. The buyer's agent can guide them in deciding the amount of the offer. Realtors are skilled at examining the local market, the value of the house to come up with an amount that is both fair and competitive. If the seller makes a counteroffer, it is their job to negotiate, according to the buyer's wishes. 
When an offer is accepted, the house is considered under contract, and the buyer typically must pay some earnest money. This is about 1-2% of the asking price and is meant to show that they are serious about the purchase. Contingencies are another part of an offer. A buyer may say, for example, that the purchase is contingent on a favorable home inspection, or the seller putting on a new roof or performing some other repair. 
Contingencies give a buyer the opportunity to back out of the deal and get back the earnest money if things are not taken care of to their satisfaction. But the contingencies must be spelled out clearly in the contract. 
What's different in 2021: Other than more virtual meetings with realtors, this part of the process hasn't changed much. Because of the competitive market in 2021, however, there's more of a chance of being out-bid on a house the buyer wants.  This means they may be more likely to have to start their search over from the beginning—possibly more than once.
7. Schedule Home Inspections and Appraisals
Once there is a contract, the buyer pays for a home inspection. The inspector's report will detail everything they find out about the house that could affect the cost. If the sale was contingent on a good inspection, the buyer can take back their offer, or ask the seller to either fix what's wrong or lower the price. Both parties should let their real estate agents handle the communication about these things. They will negotiate the price and what will and will not be completed as far as repairs.
An inspection is always recommended, but a home appraisal is required by the lender. This will determine the fair market value of the home, which determines the amount the lender will lend. If the appraised value is less than the purchase price, the buyer will need to accept a higher interest rate unless they can come up with a larger down payment. 
What's different in 2021: Inspections and appraisals are still the same, with the addition of safety measures due to COVID-19. These professionals may take special care to wear masks and social distance themselves from the homeowner while performing their services.
8. Closing Time!
Once an offer is accepted, inspections and appraisals are done, and a mortgage loan is secured, it's time to close the deal. This involves signing multiple documents and paying the down payment (or proceeds from a house sale) and some closing costs. Luckily for buyers, sellers are responsible for most of the closing costs, including real estate agent commissions. In the end, the keys are handed over and the house has a new owner.
What's different in 2021: Due to COVID-19, closing on a house is a different experience than it used to be. Instead of gathering around a conference table to sign all of the paperwork together, much of it can be handled remotely. Electronic signatures and document transfer, or even staying in the car to sign in person are common right now. In-person closings might resume once they can happen safely, but until then, there are alternatives.
Words of Wisdom for Any Year
No matter what year you decide to buy a house, there are some pieces of advice that never change:
Prepare as much as you can by saving, fixing your credit, and getting preapproved, so you're ready to go when you find the perfect house.

Be patient and take the time to find a house that is right for you and your family—one that is livable, practical, and affordable. 

Don't be afraid to ask questions about the house buying process. The National Home Buyer's Alliance has a

helpful glossary of real estate terms

.

Find a real estate agent who will be by your side, helping you find your dream home.
Share This Post